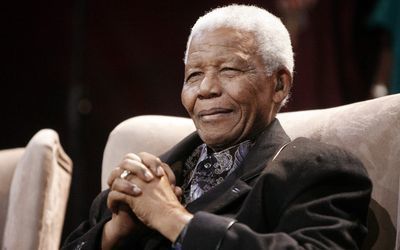 FORMER president Nelson Mandela was on Sunday night in a critical condition in hospital, the Presidency said.
"The condition of former president Nelson Mandela, who is still in hospital in Pretoria, has become critical," said presidential spokesman Mac Maharaj in a statement.
Mr Mandela, 94, was admitted to the Mediclinic Heart Hospital on June 8 with a recurring lung infection. Since then he has been in a serious condition, according to his doctors, although he was responding to treatment last week.
On Sunday evening, President Jacob Zuma and African National Congress (ANC) deputy president Cyril Ramaphosa visited Mr Mandela in hospital and were informed by the anti-apartheid icon's medical team that his condition had become critical over the past 24 hours.
Mr Zuma and Mr Ramaphosa also met Graca Machel, Mr Mandela's wife, at the hospital and discussed his condition.
"The doctors are doing everything possible to get his condition to improve and are ensuring that Madiba is well looked after and comfortable. He is in good hands," said Mr Zuma.
Doctors assured Mr Zuma and Mr Ramaphosa that Mr Mandela's condition had not been compromised on June 8 when an ambulance transporting him to hospital had developed engine problems.
The Presidency said on Saturday that when the ambulance broke down, it was decided to transfer Mr Mandela to another military ambulance. The incident was reported on most newspaper front pages on Sunday.
"There were seven doctors in the convoy who were in full control of the situation throughout the period," Mr Zuma said on Sunday. "He had expert medical care. The fully equipped military intensive care unit ambulance had a full complement of specialist medical staff, including intensive care specialists and ICU nurses.
"The doctors also dismissed media reports that Madiba had suffered cardiac arrest. There is no truth at all in that report."
This is Mr Mandela's fourth hospitalisation in several months. He was receiving care at his Houghton home when his lung problems returned.
He was diagnosed with early-stage tuberculosis in 1988 – believed to be as a result of working in a quarry while in prison – and has been treated for prostate cancer and stomach ailments.
Concern over his health had grown following televised footage — the first in months — of a frail and gaunt man during a visit to his Houghton home by ANC leaders in April this year.
To be informed of the latest articles, subscribe: