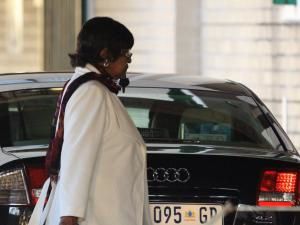 Pretoria - Former president Nelson Mandela's ex-wife, ANC MP Winnie Madikizela-Mandela, arrived at the Pretoria hospital on Thursday where he is being treated for a recurring lung infection.
She was accompanied by her daughter Zindzi, and arrived at the Medi-Clinic Heart Hospital in a black Audi with flashing blue police lights around noon.
The elderly statesman was spending his 13th day in the hospital.
On Wednesday, another of Mandela's daughters, South Africa's ambassador to Argentina, Zenani Mandela, arrived at the hospital with Madiba's grandchildren Zoleka and Zaziwe Dlamini-Manaway.
They were with Zaziwe's husband, American businessman David Manaway.
Mandela, 94, was hospitalised in the early hours of June 8 with a recurring lung infection. The presidency said he was in a "serious but stable" condition.
Several close relatives of the anti-apartheid icon have visited him daily.
Three police officers stationed at each entrance screened all vehicles entering the hospital.
Well-wishers have adorned the hospital's perimeter wall with an assortment of get-well-soon cards, bouquets of flowers, balloons, sculptures, and flags.
One handmade card from Mamboleo Stephane Mandela had the words: "I'm waiting for you at my 18th birthday party. Get well soon." - Sapa
To be informed of the latest articles, subscribe: