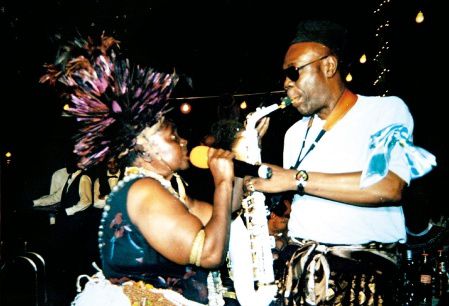 Anne-Marie Nzié is a Cameroonian bikutsi singer. In the 1940s, died on december 26, 2013, Nzié began performing bikutsi, the music native to her home in central Cameroon. She signed with Pathé Marcom Records. Nzié remained active over the next five decades and helped to popularise bikutsi throughout Cameroon. Her long career earned her the epithets "Queen of Cameroonian Music", "Queen Mother of Cameroonian Music", and "Queen Mother of Bikutsi".
Nzié was a supporter of both of Cameroon's presidents, Ahmadou Ahidjo and Paul Biya. For example, she dedicated the song "Liberté" to Paul Biya and his Cameroon People's Democratic Movement (CPDM) political party. In 1992, the Social Democratic Front used the song during John Fru Ndi's presidential campaign; Nzié said that she was "vehemently opposed" to the move. In another incident, student protesters changed the lyrics of the song to say, "Paul Biya go away". Nzié responded by saying that the song was always intended to be pro-Biya and pro-CPDM.
After a long absence, Nzié released the album Béza Ba Dzo in 1999. Coco Mbassi sang backup on the album.
"The Voice of Gold" and "The Queen Mother of Bikutsi": these are the phrases that are still used to refer to Anne-Marie.
To be informed of the latest articles, subscribe: