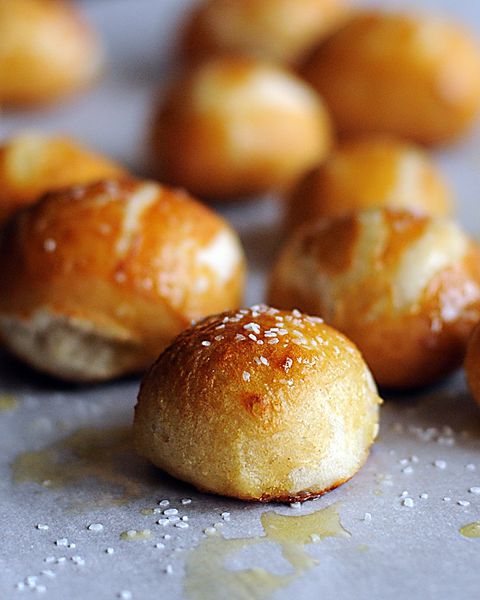 Soft pretzels are really special vegan treats, and these soft pretzel bites are perfect for parties and snacking! Serve with peanut butter, melted soy margarine, mustard or other dip or spread of your choice!
Serves 8
Prep Time: 1 hour
Cook Time: 12 minutes
Total Time: 1 hour, 12 minutes
Ingredients:
1 .25-ounce package active dry yeast
1 cup warm water
1/4 cup white granulated sugar
2 1/2 cups all-purpose flour, plus more if needed
1 t. salt
7 cups water
1/2 cup baking soda
Coarse salt or Hawaiian sea salt, for sprinkling
Preparation:
1. In a large mixing bowl, combine the yeast, warm water and sugar, agitating until the yeast is dissolve. Let stand for 5 minutes, or until the mixture is bubbly. Add the flour gradually until forming a soft dough that is neither sticky nor dry, adding extra flour if necessary. Turn the dough out onto a clean work surface and knead until elastic and smooth, about 3-4 minutes. Place in a lightly oiled bowl, cover, and let rise in a warm place for about 1 hour or until doubled in bulk.
2. Preheat the oven to 400 F. Lightly oil a large baking sheet and set aside.
3. Bring the 7 cups of water and baking soda to a rolling boil in a medium-large saucepan over medium-high heat. Punch the dough down and turn out onto a clean work surface. Separate the dough into 8 pieces and roll each into a rope about 1/2" thick. Using a pizza cutter or sharp knife, cut the ropes into pieces about 1/2"-1" in length.
4. Drop about 3-4 pieces of dough at a time into the boiling water. Boil for about 30 seconds, remove using a slotted spoon, and transfer to the prepared baking sheet. Repeat this until all of your pieces of dough have been boiled. Sprinkle with coarse salt and bake until golden brown, about 10-12 minutes. Allow pretzel bites to cool slightly before serving. Serve warm or at room temperature.
To be informed of the latest articles, subscribe: