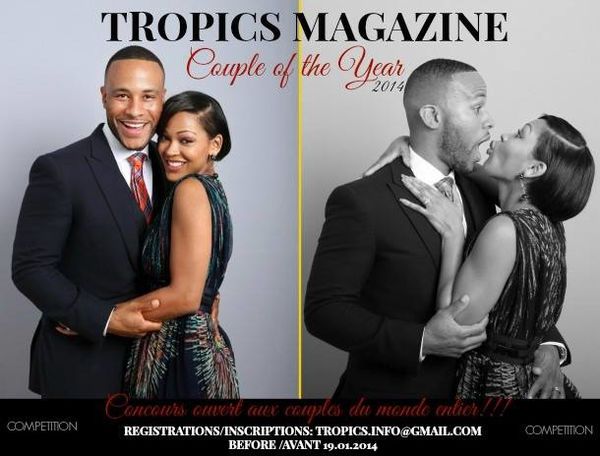 *COMPETITION* Couple of the Year 2014 brought to you by TROPICS MAGAZINE!


Description:
~COUPLES~
#1: Upload your favourite/cutest/sweetest/most lovey-dovey couple photo with your boyfriend/girlfriend or husband/wife.
#2: Tag your friends in the photo and get them to like the photo!!!
#3: Photos will be printed and placed on a board for voting during the first two days.
#4: Get your friends to vote by liking TROPICS MAGAZINE's fanpage, by liking your best couple photo and by commenting on their photo!!!
#5: The best couple will be announced as the ultimate winner of the competition
#6: The BIG prize to be won is a feature in our February 2014 issue (:


~FRIENDS~
If you think that any of your friends are eligible for the MOST COMPATIBLE COUPLE award, feel free to submit their photos by email: tropics.info@gmail.com. You can later tag them or their friends, and get everyone to vote! :D


FINAL PHOTO SUBMISSION OF PHOTOS IS DUE ONE DAY BEFORE THE COMPETITION STARTS – 20/01/2014 ! DON'T MISS YOUR CHANCE TO WIN THE GRAND PRIZE! START SENDING US YOUR PHOTOS NOW!!!!!!!!!!!!!!!!!!


Competition Rules:
1. Where you come from is not an issue. We encourage every nationalities to enter the competition.
2. Acceptance of entries will end on 19/01/2014 at 5pm.
3. Photos will be displayed on the TROPICS MAGAZINE Facebook page for voting during the event.
4. The couple with the highest number of total votes (Facebook 'likes' + comments at the event booth) has more chances than others to be the winner. Nevertheless, the judges have a final say.
5. Winners will be notified by email.
6. Please adhere to all the rules strictly, and the decision of the winner is FINAL.


Thank you! (: HAPPY VALENTINE'S DAY!!!!!!!!!!!!!!!!!!! :D
::::::::::::::::::::::::::::::::::::::::::::::::::::::::::::
* CONCOURS * Le Couple de l'Année 2014 présenté par TROPICS MAGAZINE !
Description :
~COUPLES~
# 1 : Sélectionnez vos plus belles photos en couples et gardez votre statut conjugal secret.
# 2 : Marquez vos amis sur vos photos et invitez-les à aimer la page de Tropics Magazine et vos photos dès le début du concours!
# 3 : Toutes les photos des candidats seront affichées sur la page officielle du concours (Tropics Magazine) pour permettre au public de voter.
# 4 : Invitez vos amis à voter pour vous en aimant la photo et en commentant sur chacune d'elles !
# 5 : Le couple avec le plus grand nombre de messages + de likes sur Facebook ira en demi-finale et compétira avec les autres candidats.
# 6 : Annonce du couple gagnant et publication de résultats ( :
~AMIS~
Si vous pensez que l'un de vos amis est éligible à la compétition, n'hésitez pas à nous soumettre leurs photos et soutenez-les pour qu'ils remportent le titre du Couple de l'Année 2014 par TROPICS MAGAZINE.
LE DELAI DE SOUMISSION DE VOS PHOTOS EST FIXE AU 19/01/2013 à 17 heures ! NE MANQUEZ PAS VOTRE CHANCE DE PARUTION DANS TROPICS MAGAZINE, LE MAGAZINE QUI CELEBRE LES CULTURES DU MONDE ! ENVOYEZ-NOUS VOS PHOTOS DES MAINTENANT! ! ! ! ! !
Règlement du concours :
1 . Nous encourageons les couples du monde à prendre part au concours car le but est de célébrer cette diversité culturelle qui nous rend uniques.
2 . L'envoi des photos des candidats doit se faire par mail (tropics.info@gmail.com) et ce, jusqu'au 19/01/2014, 17h00.
3 . Les photos de l'ensemble des candidats seront affichées sur la page officielle de Tropics Magazine.
4 . Le couple qui obtiendra le plus grand nombre de votes sera placé en tête de la compétition et sera sélectionné pour la demi-finale.
5 . Les gagnants seront avisés par courriel du résultat final.
6 . Veuillez, s'il vous plaît, vous conformer strictement à toutes ces règles, et veuillez noter que la décision finale relève du jury qui choisira le meilleur couple de l'année.
Bonne chance et heureuse fête de Saint-Valentin! ! ! ! ! ! !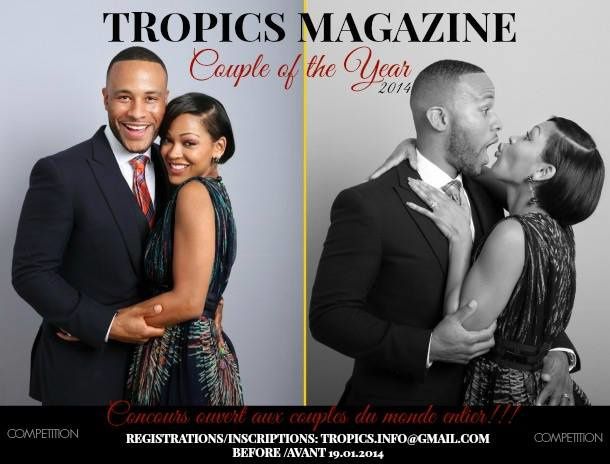 To be informed of the latest articles, subscribe: