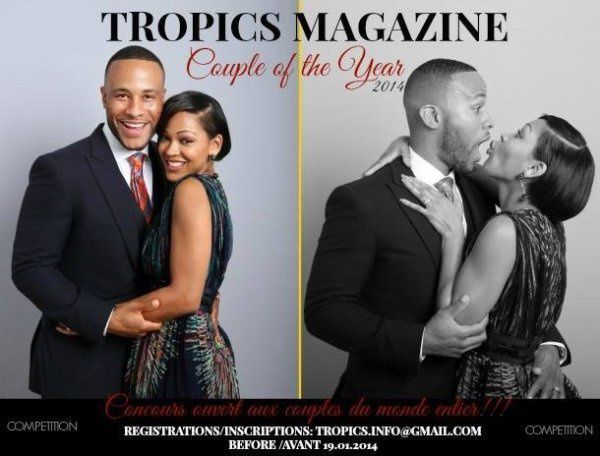 "COUPLE OF THE YEAR" COMPETITION BY TROPICS MAGAZINE
~PRESS RELEASE~
(Johannesburg, South Africa) -- Tropics Magazine is proud to reveal the contestants for our 2014 "TROPICS MAGAZINE COUPLE OF THE YEAR." The competition is about celebrating diversity and encouraging couples from all origins and nationalities to be proud of their heritage. The "Couple of the Year 2014" by TROPICS MAGAZINE is a true affirmation of what the magazine stands for: innovation and excellence.
Seven (7) couples have entered the competition and they are in the run to win the title of "Couple of the Year" after few sessions of votes will be secured by the public.
The competition rules go as follows:
1. Where you come from is not an issue. We've encouraged every nationality to enter the competition. All entries are closed.
2. Photos displayed on the TROPICS MAGAZINE Facebook page are for public voting purposes and all contestants MUST invite their Facebook contacts or friends to 'LIKE' the TROPICS MAGAZINE page ( https://www.facebook.com/TropicsMagazineWorld# ) and cast their vote "freely" for their "Best Couple" by LIKING and COMMENTING the photos during the entire duration of the event online.
3. The couple with the highest number of total votes (Facebook 'likes' + comments has a better chance to stay in the competition). Nevertheless, the judges have a final say, at all times.
4. All contestants will be notified by email.
5. Each contestant needs to adhere to all the rules strictly, and the final decision of the winner by the judges is FINAL.

Happy competing and good luck to all our Tropical contestants. Keep paving the way forward and Happy Valentine's in advance!
STAY IN TOUCH: https://www.facebook.com/TropicsMagazineWorld#
::::::::::::::::::::::::::::::::::::::::::::::::::::::::::::
CONCOURS "LE COUPLE DE L'ANNÉE" PAR TROPICS MAGAZINE
~ COMMUNIQUE DE PRESSE ~
(Johannesburg, Afrique du Sud) -- Tropics Magazine est fier de dévoiler les candidats de son concours « Le Couple de l'Année 2014. » Ce concours qui a pour but de célébrer la diversité des cultures, d'honorer les couples dans notre numéro de Février sert également à encourager les couples du monde d'être plus fiers de leur patrimoine culturel.
Sept (7) couples au total participeront au concours en ligne et ils resteront dans la course grâce aux votes du public qui les permettront de remporter le titre du "Couple de l'Année 2014."
Les règles principales du concours sont les suivantes:
1 . Aucun critère d'exclusion ne sera basé sur l'origine des candidats, à plus forte raison, leur couleur de peau, leur pays d'origine, etc. Tous les candidats sont égaux et uniques en leur genre.
2 . Les photos affichées sur la page Facebook de TROPICS MAGAZINE sont rendues publiques à des fins de votes public et tous les participants doivent y convier leurs contacts ou amis Facebook à ' LIKER' la page du concours ( https://www.facebook.com/TropicsMagazineWorld# ), 'LIKER' leur photo et COMMENTER pour voter pour leur « Meilleur Couple » en ligne.
3 . Le couple qui obtiendra le plus grand nombre de votes au total aura une meilleure chance d'être placé parmi les favoris. Néanmoins, les juges ont le dernier mot, en tout temps.
4 . Toutes correspondances officielles seront adressées aux candidats par email.
5 . Chaque participant devra, strictement, se conformer à toutes les règles du concours, et accepter la décision finale du jury.
Bonne compétition et bonne chance à tous nos candidats des Tropiques. Restez exceptionnels et Bonne Saint-Valentin à tous!
RESTEZ CONNECTEZ: https://www.facebook.com/TropicsMagazineWorld#
To be informed of the latest articles, subscribe: