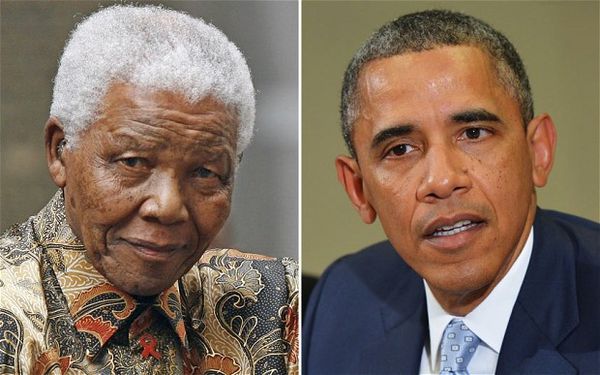 Barack Obama heads to Africa on a long awaited first major tour today, but the trip is being overshadowed by Nelson Mandela's fading health.
Mr Obama will leave Andrews Air Force base outside Washington for a weeklong trip that is scheduled to include stops in Senegal, South Africa and Tanzania.
Yet Mr Mandela's fragile state of health has sparked speculation that the tour could be halted, or radically changed, if he passes away in the hours before Mr Obama leaves, or while he is on the continent.
The White House has said that it will defer to Mr Mandela's family on whether the president would visit his ailing 94-year-old political hero in the Pretoria hospital where he has been for nearly three weeks.
Maite Nkoane Mashebane, South Africa's foreign minister said that while Mr Obama would have loved to see Mr Mandela, a meeting with the former South African leader would be impossible as he was "indisposed."
The men met in 2005, when the former South African president was in Washington, and Mr Obama was a newly elected senator, and the two have spoken several times since on the telephone.