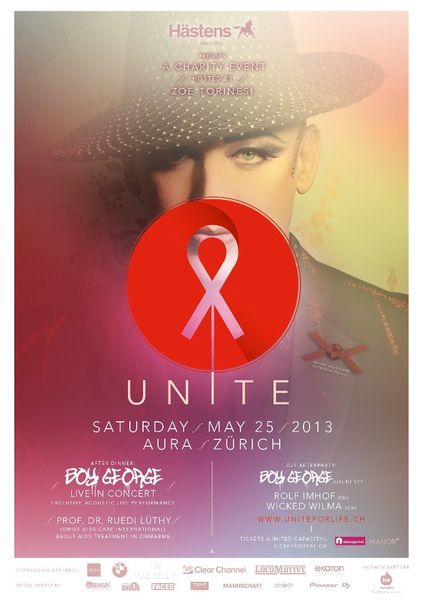 -Press Release-
Tropics Magazine, the first bi-lingual (English/French) online magazine which serves a world-wide community today announces a media partnership with UNITE, an organization that claims solidarity for people with AIDS, not only in Switzerland, but also globally. Their goal is to inform and trigger a dialogue with the public. Therefore they support humanitarian organizations.
To draw attention to this subject, Tropics Magazine will support UNITE in this year's event taking place in Aura Zürich (www.aura-zurich.ch ) on May 25, 2013 and benefiting a Zimbabwean hospital. On this premiere global, music icon Boy George is gracing the public with his presence. He has arranged an acoustic concert and will perform some of his most memorable hits with his band. 'Do You Really Want To Hurt Me', 'Karma Chameleon', etc. will hit people's ears by beautiful Aura Zürich's extraordinary quadrophonic sound system. After the special live performance, George will then play an exclusive DJ set for the after party.
Tiickets to this event can be purchased online at www.ticketportal.ch.
-Ends-
About UNITE
2013, UNITE collects donations for Swiss Aids Care International, founded by Prof. Dr. Ruedi Lüthy. Working under difficult conditions, Ruedi Lüthy (European Of The Year 2007, Swiss Award Winner 2004, in the category "society"), in the year 2003 has set up an outpatient clinic and a training centre in the capital, Harare. With great success : Newlands Clinic now provides comprehensive care for more than 4'000 patients. In the nearby training centre, Ruedi Lüthy and his local team also train around 250 health care workers and doctors every year in the management of HIV.
For further information about Tropics Magazine:
Vénicia Guinot, Publisher & Editor-in-Chief, TROPICS MAGAZINE - www.tropicsmagazine.over-blog.com
For further information about UNITE:
Sascha Plecic, Founder & President, UNITE - http://www.uniteforlife.ch
♦♦♦♦♦♦
-Communiqué de presse-
Tropics Magazine, le premier magazine bilingue (Français / Anglais) en ligne qui dessert une communauté mondiale annonce aujourd'hui sa collaboration avec UNITE, une organisation qui prône la solidarité pour les personnes atteintes du Sida, non seulement en Suisse, mais aussi dans le reste du monde. Le but de UNITE est d'informer et de susciter un dialogue avec le public. Par conséquent, ils soutiennent également des organisations humanitaires qui œuvrent dans le même sens.
Pour faire encore plus de lumière sur ce sujet, Tropics Magazine soutiendra UNITE dans la promotion de l'événement de cette année qui aura lieu à Zürich Aura (www.aura-zurich.ch) le 25 mai 2013 et qui bénéficiera à un hôpital Zimbabwéen. Sur cette première mondiale, l'une des icônes de la musique mondiale, Boy George, honorera le public par sa présence. Il a donc prévu d'organiser un concert acoustique et chantera certaines de ses chansons les plus mémorables avec son groupe et son système sonore quadriphonique extraordinaire. Après ce concert spécial qui sera donné pour la cause du Sida, George jouera ensuite en exclusif avec un Dj pour égayer l'after-party.
Les tickets de l'événement sont en vente en ligne à l'adresse suivante : www.ticketportal.ch.
-Fin-
Pour plus d'informations sur Tropics Magazine, contactez:
Vénicia Guinot, Editrice-en-Chef & Fondatrice, TROPICS MAGAZINE -www.tropicsmagazine.over-blog.com
Pour plus d'informations sur UNITE, contactez:
Sascha Plecic, Président & Fondateur, UNITE - http://www.uniteforlife.ch
To be informed of the latest articles, subscribe: