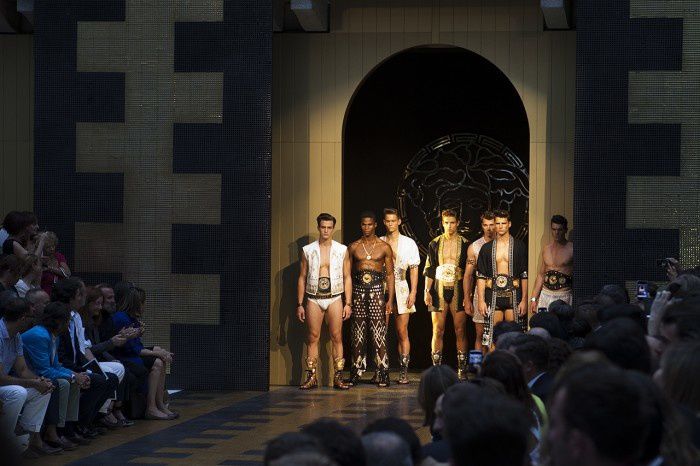 Versace has never been shy about its Classical affinities, so it was a bit of a surprise that the wrestlers which opened the Spring 2013 show were less of the Greco-Roman variety and more in the vein of WWE fighters, mostly naked save for their tiny briefs, shiny robes, and blinged-out championship belts.

After that buzzy opening, the collection showed Donatella up to all her old tricks, from the sleek, shimmering metallic suits to the blown-up floral prints and Greek key border that is a recurring motif for the house. Despite all the flesh on display—with sleeveless blazers aplenty, sometimes worn with nothing but a few chains underneath—there were still plenty of reminders of Versace's strength with masculine tailoring.

A number of the jackets leaned toward the utilitarian, covered with pockets and zippers that added a casual twist to the sturdy suiting. If you discount the shine, it was a relatively muted collection, color-wise at least, in a season when the easy way out for Versace would've been overly-saturated neons and other blindingly bright hues. But there was still plenty of flash, as you'd expect, and if you see someone coming down the street in a year's time rocking one of those gold belts, don't say we didn't warn you.
To be informed of the latest articles, subscribe: