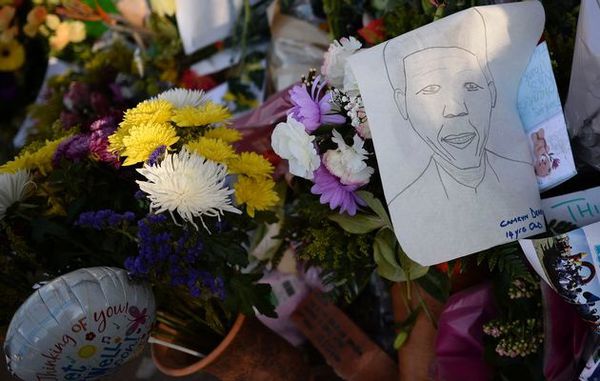 At the hospital gates in Celliers Street, medical student Clarence Chauke paused to show his support and said he believed the recovery many hoped for, had become impossible.
"It will be very heavy if he goes, the country will come to a halt, but if an old man becomes this sick for this long, then usually it is the end of it."
"We want him to stay with us because we love him very much, but I think it's time," added the University of Pretoria student.
Well-wishers from all races came to the hospital to bring cards and flowers and light candles in a scene from the rainbow nation Mandela hoped to forge.
Vicky Pollock brought her two small daughters to wish Mandela well.
"If he passes, we will remember him as a peaceful and honourable man,"she said.
Holding her mother's hand and a dozen orange roses, five-year-old Candice lisped that the flowers were "for Nelson Mandela".
Chinese tourist Yan Lin stopped to look at the scene and lauded Mandela for his victory over racial oppression.
"I wish Mandela a quick recovery. He is a good man who contributed to the liberation of South Africans, particularly black people," he said.
"This is a historical time for human history. Mandela made sure that people had a better life regardless of their race."
Local Dineo Malungana, 37, noted that the whole world shared South Africa's concern for it's liberation hero.
"I would love to say to Madiba you have done your best and you are part of us.
I have been going through the messages, they are very touching. It shows that he is a powerful man. These messages are from all over the world.
"If he passes, he would still be remembered forever as part of the South African history."
Meanwhile, United States president Barack Obama renounced hope of visiting the man he calls his personal hero.
Obama will instead meet with Mandela's family to express his support for the anti-apartheid legend who is fighting for his life, three weeks before his 95th birthday.
Obama, who is his country's first black president as Mandela was, had expressed concern that a visit to the hospital may be intrusive.
Source: Times Live
To be informed of the latest articles, subscribe: