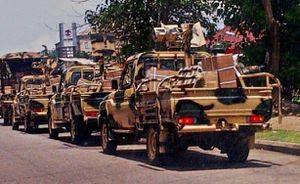 Yola/Maiduguri/Damaturu/Abuja — Mobile phone service was turned off yesterday in Borno and Yobe, stifling social life and business activities in two of the three states affected by the proclamation of state of emergency on Tuesday.
Daily Trust's correspondents reported that services of all the GSM networks--Airtel, MTN, Glo and Etisalat--were unavailable since early morning yesterday, obviously turned off as part of the military operation aimed at ridding the areas of insurgents.
There was no official statement on why the cell phone services were turned off, but insurgents were believed to have used mobile phones to remotely detonate bombs in the past.
Fighter jets and thousands of troops have been deployed to Borno and Yobe, as well as to Adamawa State which is also under emergency rule, to try to dislodge insurgents whose uprising caused the death of thousands since 2009.
"I think the cell phone service cut was taken in order to give way for soldiers to launch unhindered onslaught on suspects in targeted areas," a Maiduguri resident said.
Cell phone service disruption is not new to some parts of northern Borno, as many towns in Gubio and Monguno local government areas have been without service since last year when insurgents destroyed cell towers there.
But for the first time, southern Borno including Biu, Hawul and Bayo local government areas have been affected following yesterday's cut of mobile phone services.
Grema Babagoni, who came into Maiduguri from Biu, said the cell phone service shut down affected social and economic lives of the people.
Motorists who came to Maiduguri from the border towns of Gamboru Ngala and Marte said Cameroonian authorities also turned off telecommunication signals that reach those communities.
"We relied on Cameroon (for network services) for a very long period of time but we woke up today (yesterday) and found out that all the signals are gone," a motorist said.
Bus drivers who came to Damaturu motor park from various locations in Yobe State also told our correspondent that GSM services were turned off across the 17 local government areas.
Malam Samaila Sule, a bus driver from Gaidam, said he noticed the service failure around 3am when he intended calling home to know the condition of his sick child. "I was worried when I discovered the shutting down of GSM services, because I left my child terribly ill," he said. Some recharge card sellers in Maiduguri said their source of livelihood has been affected and so most of them were forced to remain at home. "This is a big problem as I have not sold a single recharge card since morning," Mohammed Gobir said.
But internet facilities not reliant on cell phone companies were running yesterday in the two states.
Telecoms operators told Daily Trust they were aware of the services cut but declined to say if this was caused by military activities. Chairman of the Association of Licensed Telecoms Operators of Nigeria (ALTON), Engr Gbenga Adebayo, said members of the organisation were working on the problem.
An official at telephony regulator Nigerian Communications Commission confirmed to our reporter that military operations led to the cutting off of cell phone services.
But spokesman for the Defence Headquarters in Abuja, Brigadier General Chris Olukolade, denied this.
"You should know that even before now there were difficulties in telephone services in the area because the insurgents have destroyed several telecommunication facilities. As soon as you leave Maiduguri, you will be experiencing network problems until you get to Chad," he said.
Curfew in Adamawa
Meanwhile, the Nigerian Army yesterday imposed a dusk-to-dawn curfew on Adamawa State following the presidential declaration of the state of emergency.
It is the first major change witnessed in the state since the declaration of the state of emergency on Tuesday.
A statement signed by the army public relations officer in Yola Lt. Jaaru Mohammed Nuhu said the decision followed the imposition of the state of emergency in the state and neighbouring Borno and Yobe.
The full statement reads: "Sequel to the Presidential Declaration of a State of Emergency in Borno, Yobe and Adamawa States by the President and Commander in Chief of the Armed Forces of the Federal Republic of Nigeria President Goodluck Ebele Jonathan GCFR, a 6pm to 6am curfew has been imposed on Adamawa State with effect from 16 May 2013. All law abiding citizens are advised to abide by the curfew".
Lt. Nuhu later told Daily Trust that even before declaration of the state of emergency, the army has been actively involved in security operation in the state, and that the same operation would just continue.
There has not been any visible change in troops' deployment in Yola yet since the declaration of the state of emergency.
At the 23 Brigade headquarters in Yola, our correspondent did not see any obvious increase of troops.
The army spokesman declined to say whether some have been sent to other parts of the state after the declaration. He said troops' movement has been going on in the state even before the declaration.
In the state capital, Yola, people are still going about their businesses as usual, but many expressed worries over the imposition of the curfew, saying it was unnecessary.
House-to-house search in Maiduguri
In Maiduguri, residents said security operatives have stepped up house- to-house search throughout Wednesday night and yesterday.
Baba Musa of Kula Gumna area said soldiers had surrounded the area in the early hours of yesterday and searched houses. Similar activities took place in Tashar Gwoza, Lawan Bukar, Mairi, Gomari airport and Bulunkutu areas, Daily Trust learnt.
Travellers coming into Maiduguri had to pass through thorough screening at Jimtilo, the main entrance for motorists from Abuja, Kano, Kaduna and southern part of Nigeria.
Vehicles had to wait for hours in gridlocks along the Bauchi-Maiduguri road before they got screened.
A bus driver who took off from Bauchi around 6am yesterday said it took him over ten hours to get to Maiduguri, a journey that would normally have lasted about five hours.
"This is a new phase of difficulty for us. All the passengers in my vehicle were asked to go out from the vehicle at the entrance of Potiskum, Damaturu and Maiduguri. They were asked to identify themselves while their luggage was searched," he said.
But the Yobe State capital Damaturu remained calm, even though the cell phone service cut has caused hardship for the people.
Elsewhere, the sight of troops scared locals, said Malam Baa Aji Geidam who came to Damaturu from Gaidam. "The soldiers were staying calm in their camp, and did not harass anybody," he said.
Meanwhile, the United States yesterday reiterated its call on Nigerian authorities to avoid high-handedness in the military operation against insurgents.
At a daily briefing in Washington D.C. on Wednesday, acting deputy spokesman of the State Department, Mr. Patrick Ventrell, said: "Nigeria's security forces must protect civilians in any security response in a way that respects human rights and the rule of law... . we have made clear to the Nigerian government that its heavy-handed response to insecurity in northern Nigeria and the failure to address human rights violations will potentially affect our ability to provide security assistance going forward. So we've made that message clear to the Nigerians."
Article by: ABDULLAHI TASIU ABUBAKAR , HAMZA IDRIS, YAHAYA IBRAHIM, HAMISU KABIR MATAZU AND ZAKARIYYA ADARAMOLA
To be informed of the latest articles, subscribe: